Tensile properties of plastics and rubbers are one of the most important and fundamental properties of their mechanical properties. It largely determines the kind of plastic and rubber use occasions. Tensile properties of good or bad, can be tested by
plastic pipe testing machine
.
1, the tensile properties of polymer
When used as a material requires the polymer has the necessary mechanical properties. It can be said that for most applications of high polymer, the mechanical properties are more important than other physical properties.
Macromolecular polymers have the widest range of mechanical properties of all known materials due to the long relaxation of the polymer and the significant relaxation of the molecular motions. Such as high polymer material has a very high elongation, the general PE elongation at break of 90% ~ 950% (including linear low density polyethylene LLDPE elongation higher), through a special manufacturing process, part of the material Elongation of more than 1000%, while ordinary high polymer material elongation at break of more than% ~ 100%. Tensile properties of materials usually require a higher heat shrinkable film and stretch film.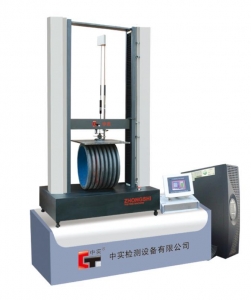 2, tensile test
Tensile test (stress-strain test) is usually two ends of the material sample were sandwiched between two spaced apart fixture, the two fixtures at a certain speed separation and tensile specimen, the determination of the sample stress changes, Until the specimen is destroyed.
Tensile testing is one of the most widely used methods for studying the mechanical strength of materials and requires the use of a constant speed tensile testing machine. According to the different load measurement methods, tensile testing machine can be roughly divided into pendulum tensile testing machine and electronic tensile testing machine two types, the current use of more electronic tensile testing machine.
3, electronic tensile testing machine selection index
As the flexible packaging material is mainly a polymer or its related materials, as described above, the elongation of the polymer material is far superior to the metal, fiber, wood, sheet and other materials, so the polymer testing of the tensile machine Tensile properties of materials with the usual tensile testing machine there are some differences, in particular, need to pay attention to the effective range of electronic tensile machine and the sample holder in both.