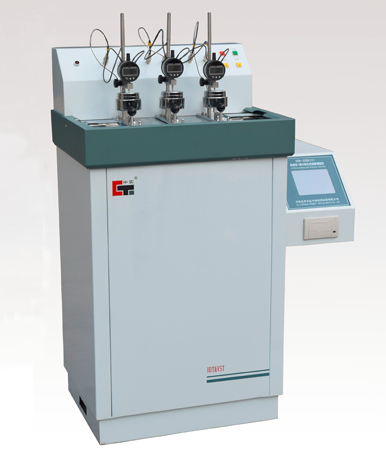 XRW-300 HTD&VICAT softening point temperature testing instrument
Use :
It's used for testing the HTD&Vicat softening temperature of the non-metal materials.
All the types adopt SCM control mode. PC and special software are provided for powerful date processing and analysis function as optional parts
Software Function:
Collection of data: software is connected the main-frame via the serial port, and data can be collected fast and steadily
Operation: English window surface, simple menu operation
Display: can display six curves of the test pieces in testing. Can display one or more deformational curves of the test pieces and contrast or stack
Result reappear: open the history record at anytime, contrast and stack the curve and achieve the report
Curve erodes: In the course of the test or in the opening history curve, the temperature and deformation of the test piece at any time can be find out by clicking mouse.
Technical parameter:
| | | |
| --- | --- | --- |
| NO | Items | Specification |
| 1 | Quantity of Sample frame | 3 |
| 2 | Temperature controlled range | Room temperature~300℃ |
| 3 | Heating rate | (12℃±1℃)/6min、(5℃±0.5℃)/6min |
| 4 | Deformation measured range | 0~1mm |
| 5 | Deformation error | <0.01mm |
| 6 | Test piece supporting distance | 64mm,100mm |
| 7 | The way of stir | Double motors high efficiency agitation |
| 8 | Poise | 88g~5kg |
| 9 | Displacement range | 100~1100µm |
| 10 | Heating power | 2.5kW |
| 11 | Power supply | 220V±10% 20A 50Hz |
| 12 | Dimensions | 650×450×1150mm |